Smoke and Seduction
A lady lights a cigarette glowing red cherry lips,
puffing without regreta cigarette,
burning smoking, grey breathing choking and tap tap the falling ashes
it is over with a definitive flick —
A lady lights a cigaretteshe can see her spirit dancing in the smoke.
Smoking Beauty
95 cm x 125 cm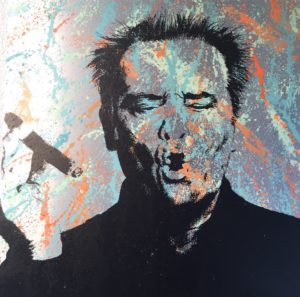 Jack Nicholson
100cm x 100cm, Spraypaint on brushed Aluminium
 Nicholson was born April 22, 1937. He is an American actor and filmmaker,
who has performed for over 60 years. Nicholson is known for playing a wide range of starring or supporting roles,
including satirical comedy, romance and dark portrayals of antiheroes and psychopathiccharacters.
In many of his films, he has played the "eternal outsider, the sardonic drifter," someone who rebels against the social structure.
Nicholson's 12 Academy Award nominations make him the most nominated male actor in the Academy's history.
Nicholson has won the Academy Award for Best Actor twice, one for the drama One Flew Over the Cuckoo's Nest (1975)
and the other for the romantic comedy As Good as It Gets(1997).
He also won the Academy Award for Best Supporting Actor for the comedy-drama Terms of Endearment (1983).
Nicholson is one of three male actors to win three Academy Awards.