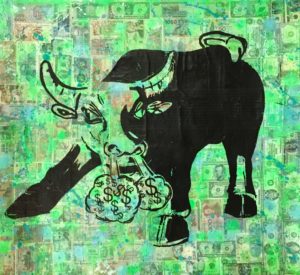 Bull Market, 96 cm x 135 cm

Gordon Gekko
Money never sleeps. 120cm x 165 cm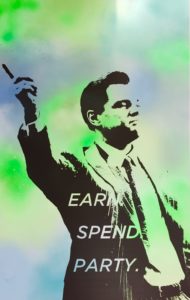 Earn, Spend, Party!
70cm x 100 cm

Money Never Sleeps,both directed by Oliver Stone.
Gekko was portrayed by actor Michael Douglas,
whose performance in the first film won him an Oscar for Best Actor.
Co-written by Stone and screenwriter Stanley Weiser,
Gekko is claimed to be based loosely on several actual financiers,
including Stone's own father Louis Stone and corporate raider Asher Edelman.
According to Edward R. Pressman, producer of the film,
"Originally, there was no one individual who Gekko was modeled on," he adds.
"But Gekko was partly Milken", who was the "Junk Bond King" of the 1980s.
In 2003, the American Film Institute named Gordon Gekko No. 24 on its Top 50 movie villains of all time.
Gekko has become a symbol in popular culture for unrestrained greed (with the signature line,
"Greed, for lack of a better word, is good"), often in fields outside corporate finance.
Gordon Gekko Quote:
"The richest one percent of this country owns half our country's wealth, five trillion dollars.
One third of that comes from hard work, two thirds comes from inheritance,
interest on interest accumulating to widows and idiot sons and what I do,
stock and real estate speculation.
It's bullshit. You got ninety percent of the American public out there with little or no net worth.
I create nothing. I own. We make the rules, pal.
The news, war, peace, famine, upheaval, the price per paper clip.
We pick that rabbit out of the hat while everybody sits out there wondering how the hell we did it.
Now you're not naive enough to think we're living in a democracy, are you buddy? It's the free market.
And you're a part of it. You've got that killer instinct. Stick around pal, I've still got a lot to teach you."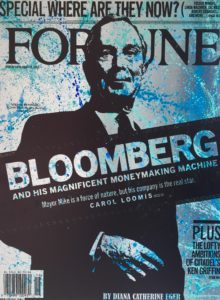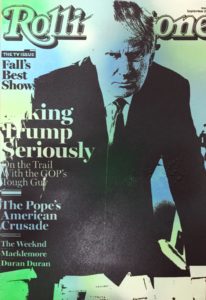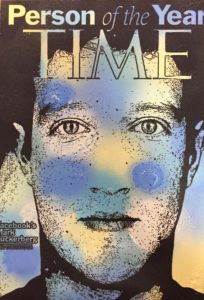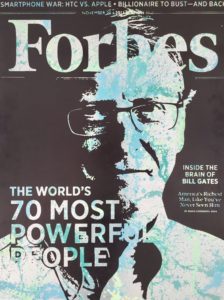 More artwork: http://dianaeger.de/popart-magazin-cover-art/