007 – James Bond
Sean Connery
Connery liked the reputation of being a rugged ladies' man.
But that changed in August 1957 when,
while filming a TV show for Britain's ATV Playhouse,
he met a beautiful blond Australian actress named Diane Cilento.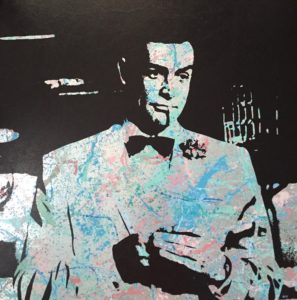 James Bond- 007,  100 cm x 100 cm
She was married at the time,
but Connery's attraction to her was undeniable.
At first Cilento felt nothing for her cast mate except friendship:
"He seemed like a man with a tremendous chip on his shoulder," she remarked. I
n 1959, just as Connery's career was taking off, Cilento contracted tuberculosis,
and the actor realized how devastated he would be if he lost her.
He turned down a big break in the Charlton Heston film El Cid to be close to her while she recovered.
The decision didn't hurt his career;
in fact, Twentieth-Century Fox studios came calling with a contract,
and Connery made several films in Hollywood.
When the contract was up, he had another stroke of luck.
Producers Harry Saltzman and Albert "Cubby" Broccoli cast him as the lead in a spy movie
based on one of a series of Ian Fleming novels.
Bond—James Bond—was born.
The 1962 film Dr. No showcased the spy contending with the arch-villain title character
and his quest to control American launched rockets.
Two sequels were released immediately:
From Russia With Love(1963) and the international blockbuster Goldfinger (1964).
Thunderball(1965) fared even better at the box office,
and You Only Live Twice (1967) followed.
Sly, sexy and confident with questionable scruples,
Connery as Bond was the embodiment of the British secret agent to many
(even if he did have to wear a toupee to cover his prematurely balding head).
"We all knew this guy had something,
" Saltzman would recall. "We signed him without a screen test. We all agreed, he was 007."
Connery had a notable non-Bond role in Alfred Hitchcock's psychological thriller Marnie (1964),
along with other projects like The Hill (1965), A Fine Madness (1966), Shalako (1968) and The Molly Maguires (1970).
He declared his last role as Bond in 1971's Diamonds Are Forever,
with the part taken over by Roger Moore in 1973's Live and Let Die.