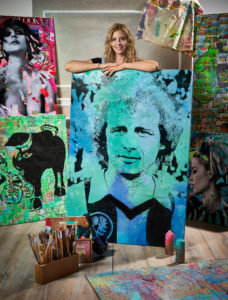 Biggest Fan!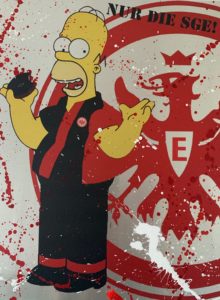 Nur die SGE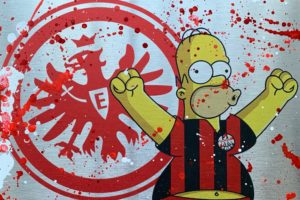 Sieg!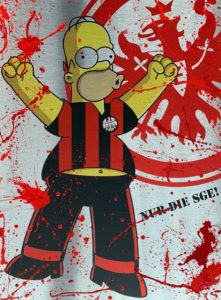 Heimsieg!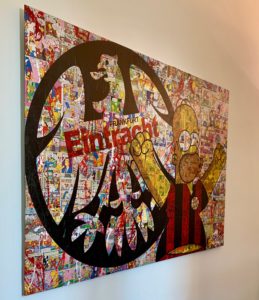 NUR DIE SGE,
100 cm x 150 cm, Mixed Media on Wood, 2019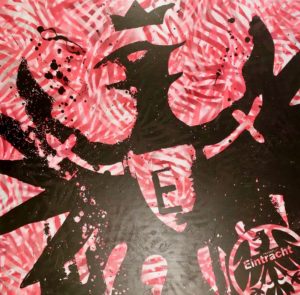 Die Adler kommen, 95 cm x 95 cm.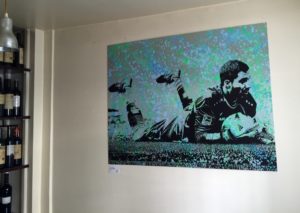 Trapp @ Divino Frankfurt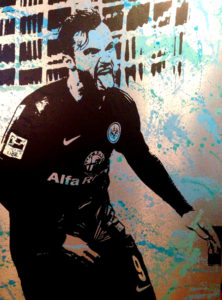 SEFEROVIC, 90cm x 120cm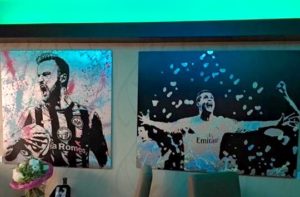 Seferovic vs. Ronaldo
Eintracht Frankfurt
18 teams compete season by season in Bundesliga for the German championship title.
Matches are played in a round robin mode in first and second leg ties (home and away).
The bottom two of the final table are relegated directly
and are replaced by the two best teams of the 2. Bundesliga.
The Bundesliga team ranked 16th competes in a relegation play-off
over two legs against the third-best team of the 2. Bundesliga.
Since 1995/96, the three-point rule is being applied.
The winners of a match earn three points (formerly two),
and in case of a tie each team earns one point, defeated teams get none.
The German champions, the runner-ups and the team ranked third are qualified for the Champions League,
the top-flight class in the European club contests.
The team ranked fourth enters the Champions League qualifying rounds.
The teams ranked fifth and sixth are qualified for the UEFA Europa League.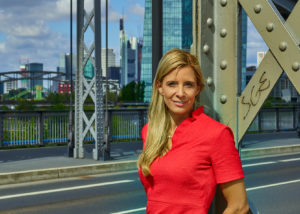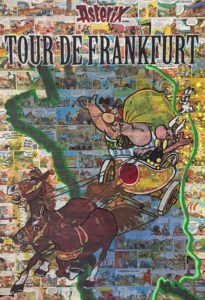 Tour de Frankfurt
70 cm x 100 cm, Mixed Media on Wood, 2017

FRANKFURT LIEBE
Spraypaint on brushed Aluminium, 2018.

FRANKFURT MY LOVE
Spraypaint on brushed Aluminium, 2018.