Collage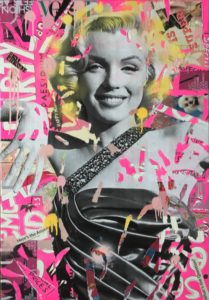 MM, Collage,  70 cm x 100 cm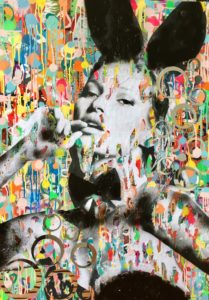 Kate the Bunny, Collage,  70 cm x 100 cm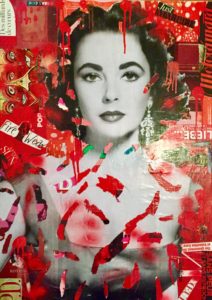 Liz, Collage, 70 cm x 100 cm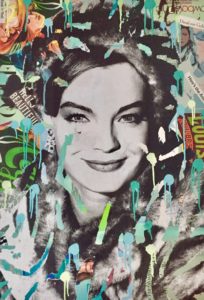 Romy, Collage, 70 cm x 100 cm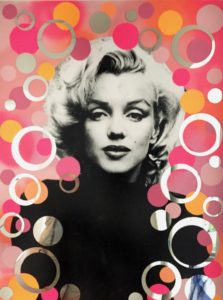 M.M., Collage, 60 cm x 80 cm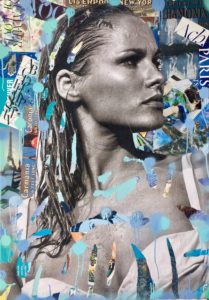 Ursula, Collage, 70 cm x 100 cm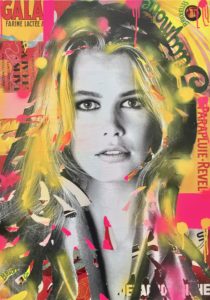 Claudia, Collage, 70 cm x 100 cm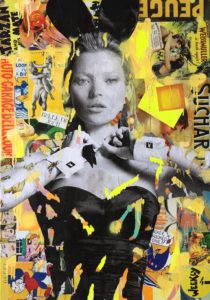 Kate the Bunny, Collage, 70 cm x 100 cm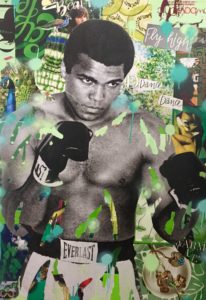 The Hero, Collage, 70 cm x 100 cm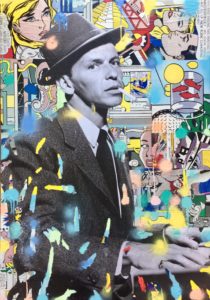 Frank, Collage, 70 cm x 100 cm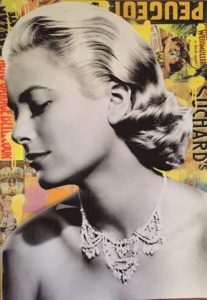 Grace, Collage, 70 cm x 100 cm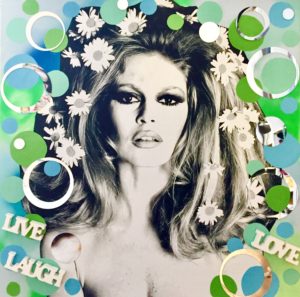 Brigitte- Love, Collage, 100 cm x 100 cm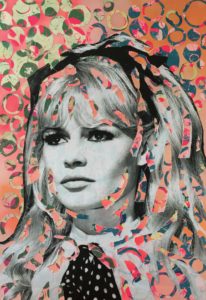 Bond Girl, Collage, 60 cm x 80 cm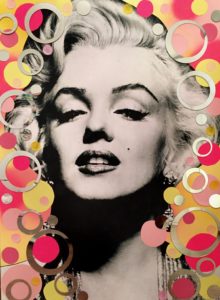 Marilyn, Collage, 70 cm x 100 cm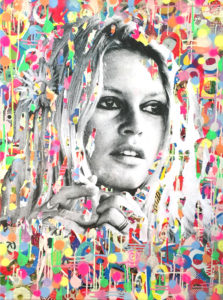 B.B. Flowers, Collage, 70 cm x 100 cm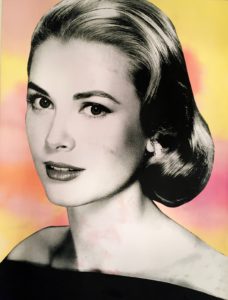 Grace Kelly,  70 cm x 100 cm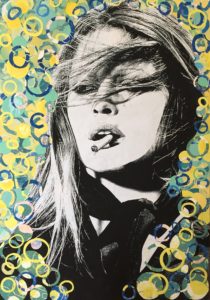 BB Dots, 70 cm x 100 cm
Romy, 80cm x 80cm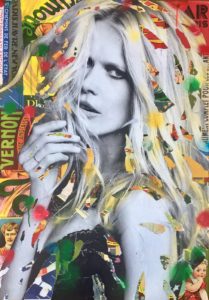 Miss Germany, Collage,  70 cm x 100 cm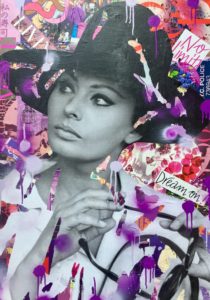 The Diva, Collage,  70 cm x 100 cm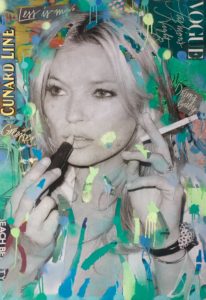 Kate – Sexy Bunny, Collage,  70 cm x 100
Kate Moss  (born 16 January 1974) is an English supermodel.
Born in Croydon, Surrey, she was discovered in 1988 at age 14 by Sarah Doukas,
founder of Storm Model Management, at JFK Airport in New York City.
Arriving at the end of the "supermodel era",
Moss rose to fame in the early 1990s as part of the heroin chic fashion trend.
Her collaborations with Calvin Klein brought her to fashion icon status.
She is known for her waifish figure, and role in size zero fashion.
She received an award at the 2013 British Fashion Awards to acknowledge her contribution to fashion over 25 years.
Moss is also a contributing fashion editor for British Vogue.
Collage
 Collage from the French: coller, "to glue" is a technique of an art production,
primarily used in the visual arts, where the artwork is made from an assemblage of different forms,
thus creating a new whole.
A collage may sometimes include magazine and newspaper clippings, ribbons,
paint, bits of colored or handmade papers, portions of other artwork or texts,
photographs and other found objects, glued to a piece of paper or canvas.
The origins of collage can be traced back hundreds of years,
but this technique made a dramatic reappearance in the early 20th century as an art form of novelty.
The term collage was coined by both Georges Braque and Pablo Picasso
in the beginning of the 20th century when collage became a distinctive part of modern art.