The painting you are looking at is comic PopArt and an original painting of  Wonder Woman kissing Batman.
Excellent work with a lot of details on the painting.
Inspired by the classic 1960's Batman starring Adam West, this is a Pop Surrealist painting of Batman.
The background consists a lot of colors.
"Wonder Woman vs. Batman" was painted specifically for the show "Disco Is Not Dead"   in Frankfurt.. It is a strong Feminist Symbol,
–though clearly a mixed one, to show what was going on in my head at that time.
It's now part of my "Strong Women Are More Fun" series.
It is signed in the back by Diana Catherine Eger.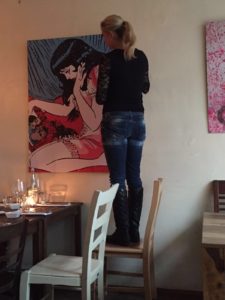 "Jack –  The Joker"  Wonder Woman quickly eliminates the threat of the joker by lassoing him with her truth.
The joker is a supervillain widely known to be a master criminal. Wonder Woman is called in to apprehend the joker as Batman and Superman are busy elsewhere.
Canvas painting by Diana Catherine Eger. Signed and dated on the back. For sale.